Crying in pain with thousands of people surrounding me, I had to stop….I couldn't go any further.
After running for more than three hours, my body couldn't go one more step without taking a quick break to stretch out my cramping legs.
Even though my body wanted to stop, I wasn't done. With less than 7 miles left in the Chicago Marathon, neither the tears streaming down my face nor the pain in my legs were going to keep me from finishing.
Anyone who's ever trained for and done a marathon knows just how much you learn about yourself doing it. You really discover what you're made of, how powerful your mind & your will can be over your body.
I learned that and more. In this article, I want to share the most potent lessons I found in this long, long run.
Run The Mile You're In
In other words, be present. When you're in mile 12, you aren't in mile 20. So you have two choices:
You can resist the truth of where you are
You can accept the truth of where you are
It's very tempting to pick option A. The first 13.1 miles of the marathon were thoroughly enjoyable. I felt no pain and I barely even noticed or thought much about the mile markers.
But once I hit the half-marathon point and saw the sign marker telling me I was halfway home, I began projecting myself into the future. And it is no surprise to me that it was at this point that I began feeling pain in my feet, ankles, and knees.
I kept bargaining with myself, saying things like:
"Okay, I only have to do what I just did again and then I'm done"
"Okay, I only 10 miles left which is only 2 of my main training loops"
"Okay, I only have 6 miles left which should take about an hour which is one episode of Law & Order SVU….so that's not so bad"
All the while, the pain was becoming greater so I began trying harder to escape reality.
You fast-track yourself to suffering when you resist "what is". You miss the beauty and the small but wonderful details of the moment when you're projecting yourself into the past or into the future.
Pain is a reality of life but suffering is optional. Run the mile you're in and find what is beautiful, interesting, useful, and/or expansive right now.
Love Yourself Now
About 17 miles into the race, I heard a woman from the crowd yell:
"Think of how much you'll love yourself after you finish!"
I've played a "sucker's game" my entire life. The game looks like this:
I only allow myself to feel good after I reach the goal in front of me.
So if I want to feel self-love, I tell myself that I can love myself after I cross the finish line. Or after I publish my book. Or after I make a certain amount of money. And then I devote all my effort to meeting that goal so that I can finally love myself (or be happy or feel fulfilled or whatever the desired feeling was).
So for weeks (and potentially months or years) I would practice feeling unworthy of the self-love or happiness or fulfillment I wanted because I hadn't yet "done the thing" that would allow me to feel that desired emotion.
The interesting thing is that in years of playing this game, I never felt the feeling I wanted after reaching, achieving, or accomplishing the thing I set out in front of myself. At least not for long. Maybe for a few days–more likely a few hours or minutes.
See, practicing not feeling the way you want to feel will never get you to feel it. If you spend weeks (or months or years) in practice shooting a basketball so that it will bounce off the front of the rim…..how exactly do you expect to get it in the net during the game?
My marathon training was a little unorthodox. I didn't use headphones/music for any of my running. I don't know how many total miles or hours I ran from June – October but….it was a lot.
There was a lot of time where it was just me on the pavement, alone with my thoughts and my experience of the world.
There were a handful of mantras I must have repeated thousands of times cumulatively over those months. Things like:
Every day, in every way….

I love myself more and more
I'm feeling better and better
I'm feeling stronger and stronger
I'm feeling more and more healthy
I'm feeling more and more happy
And I felt all those things about myself now. At least in the now of that moment. There was no delay or condition on feeling those things – – I chose to give them to myself in that moment.
While I appreciated the intention behind the words of that woman in the crowd, when I heard them I thought "Fuck that, I'm going to think of how much I love myself right now – – and how much I'll love myself even if I never end up crossing that finish line."
Love & Support Surrounds You Constantly (AKA Allies are Everywhere)
One of the most amazing things about the Chicago Marathon is how many people come out to cheer. For 26.2 miles, there were people along the course cheering and providing encouragement (and for most of it, there were a lot of people).
There were thousands of volunteers providing various types of services & aid to the runners as well as to manage such a massive event.
I was part of Team LUNGevity for the marathon. As part of being on the charity's team, I was tasked with raising at least $1,000 for lung cancer research & awareness.
At the start, I felt bad about asking for donations even though I wanted to hit (and ideally exceed) my fundraising goal. I didn't want to ask because I felt like it made me needy or weak or that others would look down on me for it.
Not asking was easier than asking. It was scarier to ask than it was to ask. When I became aware of them, it caused me to scratch my head. Because one of my core desires is to grow, to stretch myself, to push myself outside of my comfort zone….I knew I had to do the thing that was scarier and more uncomfortable.
But what I eventually found was that when I began asking, people wanted to give. When I began asking (and not just for donations to my LUNGevity fundraising page) – – things began pouring into my life. Love, money, connection, perfect clients, perfect team members, and more.
So many people have someone in their life that has been affected by lung cancer and they donate not because they necessarily love me but because it makes them feel good to honor the people close to them through a donation in their name.
There was also a decent number of people who love me and wanted to donate to support me.
The key thing that was reinforced for me was this:
Everything you want in life that you don't currently have lies outside of your comfort zone….else you would already have it.
Only you can cut yourself off from the endless amount of love & support that others want to give you. Ask for help. Ask for support. Ask for love. Take care of yourself and voice your needs. Other people are not mind readers but they often do want to support you. Even when it's uncomfortable to ask, ask anyway.
Make Your Plan & Make A True Commitment to Following It
Unless you're my friend Michael, people don't just wake up one day and run 26.2 miles. On 'Day One' of training, about four months before race day, I struggled to run a couple of miles. Going from running only a few miles to running a marathon was a simple (but not necessarily easy) function of commitment – – following what my training schedule said I needed to do that day. Showing up is the first requirement.
It wasn't until after running the marathon that I realized there is only one way I've ever accomplished anything major in my life. And that is by creating a schedule or plan, reverse engineering the timeline of that plan very precisely, and then making a true commitment to working the plan.
Back in 2011, I ran a half marathon. I didn't bother to follow a schedule at all. Left to my own devices, I had no "trigger" reminding me to run each day so I only ran when I felt like it (which was sparingly). Without a plan telling me how far to run, I would go out and run random distances (usually until I got bored or my legs started to feel uncomfortable).
When race day came, I was woefully unprepared. I probably ended up walking the same distance during those 13.1 miles back in 2011 as I did during 26.2 miles for the 2015 Chicago Marathon.
The amount of pain I experienced during and in the days after the half marathon was greater than the pain I experienced after the full marathon.
But with the training plan I had for the full marathon, I knew how to prepare for that level of pain and finish in spite of it.
Here's another example. I wrote the first draft of Profit Hacking in early August 2014 but "sat" on it for a month because I was paralyzed by the enormity of the self-publishing process.
Organizing feedback from beta readers, editing the book, getting the cover designed, getting the interior of the book formatted & designed, building a launch team, and organizing a metric shit ton of marketing for the book's release.
Without a clear plan that was broken down into clear timelines + deadlines, without clear, bite-sized action steps to take each day, I was unable to make any progress.
But that all changed when a friend of mine, Tyler Wagner, gave me some great advice:
"Pick the release date for the book right now & then you can reverse engineer everything into a timeline – – a concrete, workable plan."
Because of that, I now knew exactly what had to be done, when it had to be done, what order it had to be done in, and what people / skills / tools / technology I needed to use in order to accomplish it all – – it became easy to move forward & execute.
If I Can
Fly

Run

Before, during, and after the half marathon – – I believed the story that I'm "just not a runner". But the truth is that I can do and be anything I want to be….I just didn't have a plan & a commitment to it nor did I have a solid belief in myself.

Maybe I didn't 100% believe in myself as a runner during parts of the training leading up to the marathon but after "working the plan", I now believe it with every fiber of my being.

I've heard that it doesn't matter how fast you go, so long as you never stop moving forward….that progress is made every day.

If you're feeling stuck or resistant to moving on things you want to be doing but can't seem to get yourself to execute on (especially for big things), maybe you're just one planning & reverse engineering session away from being able to work with far greater ease….which builds momentum…which carries you to your vision.
Celebrate Every Win & Take Care of Yourself (You Deserve It)
If you're a high achiever, you may be familiar with "the disease of more".
When you accomplish something, big or small, you take the accomplishment for granted. That's because that was 'what was supposed to happen'. You immediately set your sights on the next thing, on "more" without any celebration or appreciation or happiness over what just happened.
In truth, you are taking yourself (and anyone else who helped you to that accomplishment, achievement, or milestone) for granted.
Your focus is continually on the areas of lack in your life – – what you haven't yet done, where you still need improvement, where you "aren't enough".
How does that feel compared to having more focus on where you're great, successful, amazing, accomplished?
Which one is more energizing? Which one allows you to act from a place of fullness?
Beyond that, when you're more focused on the "lack", you are far less likely to take care of yourself or treat yourself.
There's no time for things like massages or acupuncture or getting enough sleep when all you can think about is how much harder you have to push yourself in order to no longer feel like you are "lacking", "undeserving", or "not enough".
When you are training for a marathon, you can choose to make the completion of each run on the calendar a celebration or a daunting reminder of what you haven't yet done.
Even more basically, you can make each mile of every run a choice between those two perspectives.
You can celebrate yourself for what you've done & how far you've come or you can haunt yourself with all that hasn't yet been done.
But in the end, we start at the beginning – – all you can do is run the mile you're in. And the choice is yours whether you enjoy it or you suffer through it.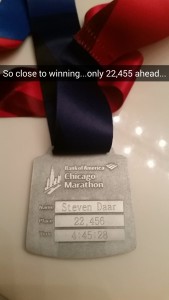 /wp-content/uploads/2015/12/The-Way.jpg
533
800
Steven Daar
http://conversionforgood.com/wp-content/uploads/2014/11/7-c4g-color-logo.png
Steven Daar
2015-12-14 18:38:00
2015-12-14 18:42:47
Run The Mile You're In: What I Learned Over 26.2 Miles About Pain, Acceptance, Love, and Power